Samsung to soon become the globe's biggest smartphone maker
27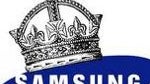 Changes are coming to the
rankings
of the world's top smartphone manufacturers. Nokia, on top of the list since 1996, is about to
drop
all the way down to number three, while Korean manufacturer Samsung will have a
coronation
as the new King. According to the report from Reuters, Apple will be the new second place company. Samsung is currently led by its sizzling hot Galaxy S II smartphone, considered to be amongst the top handsets currently available, although a Stateside launch has yet to be officially announced.
According to the research report, expect more changes to come. Taiwanese firm HTC is picking up momentum and should match Nokia sometime in 2012. HTC has been producing
strong selling
hardware designs to match the Android OS. And Apple's story has been an amazing one considering that the company entered the business only 4 years ago with the original Apple iPhone. Since its launch in 2007, the smartphone has become the Cupertino-based firms most
profitable
and
largest selling
product.
Nokia remains on top of the rankings of the world's largest cellphone makers with Samsung right behind. However, Nokia is also
losing
marketshare in that category as well. Nokia accounts for 29.2% of the world's total cellphone market with 108.5 million units shipped in Q1 of 2011. Samsung has an 18.8% share, shipping 70 million phones during the period. Apple doesn't compete in the featurephone market and as a result, finished fourth in the overall standings, shipping 18.7 million units for a 5% share. As a consolation, Apple had the largest revenue among cellphone manufacturers, bringing in $10.47 billion in its winter 2010 quarter vs. Nokia's $9.7 billion.
source:
Reuters
via
AppleInsider
Recommended Stories