Samsung to invest the eye-watering $14 billion in a new chip foundry
29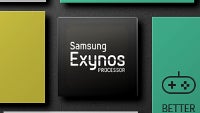 Samsung's audit sheet
already revealed
the staggering amount of R&D spending - $13.8 billion - that the company invested in memory and processing chips, screen technology, and more last year. This is roughly three times Apple's research spending, but the company is not done, it seems. Samsung Electronics announced today that it will pour in the princely $14 billion in a new chip factory, which will be coming online as soon as the the first half of 2017.
The plant will be built in the city of Pyeongtaek, south of Seoul, so that Samsung can keep a closer eye on production. The silicon-churning department has already become a significant money machine for the world's second-biggest chip maker by revenue, but with the new $14 billion plant Samsung is apparently setting even loftier goals for itself there. Local media is reporting that the exponential growth in the chip-making business is bet on to offset the inevitable slowdown in the maturing smartphone market.
As per Samsung's press release: "
The Pyeongtaek semiconductor plant will play a central role in solidifying leadership in the mobile and server markets, which have shown rapid growth in demand recently, and securing share in the next-generation internet of things market.
" The factory is reported to focus predominantly on DRAM memory in the new factory, with mobile chipsets picking up the slack when demand requires.
Recommended Stories