Samsung shows off the Galaxy S5 with new ads about S-Health, power saving, and more
10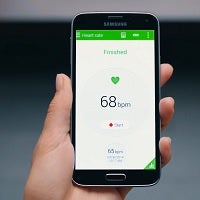 The world's largest smartphone manufacturer threw some new videos up to show off all that is wondrous about the new
Samsung Galaxy S5
.
These new ads are targeted to US customers and are probably meant for internet-centric consumption, but when you have a marketing campaign as big as Samsung's, you throw everything at the wall. The four new videos show off the arguably most distinctive features of the new flagship.
S-Health is touted as program to help you track your physical activity, and it is but a part of what is the first heart rate monitor built into a smartphone. Ultra Power Saving Mode makes a well-earned appearance, showcasing that it is not the end of the world if you find yourself with a low battery and no power nearby.
The Galaxy S5's 16MP camera is another stellar feature of the latest from Samsung. Like we wrote in our review, "it's a treasure trove for smartphone camera enthusiasts." The camera rightly has its moment in the spotlight.
Finally, there is the display. The Super AMOLED panel is vibrant on the Galaxy S5, something we would expect from Samsung. Interestingly, in the final ad, Samsung throws another punch at Apple over the size of its comparatively tiny screen, claiming 62% more screen area than the iPhone 5s.
Again, these ads are on the less-flashy side, but again, we see Samsung
overtly calling out the iPhone
as a point of comparison.