Samsung sells 86 million smartphones in Q4 to set a new record; tops Apple for the quarter and year
83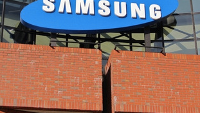 Even with
Apple selling a record 51 million Apple iPhones in the calendar fourth quarter
, Samsung topped the U.S. manufacturer by selling a record 86 million smartphones during the same period. The data, which comes from Strategy Analytics, shows that the Korean manufacturer owns 29.6% of the global smartphone market while Apple's slice of the pie amounts to 17.6%.
Despite a year-over-year gain in iPhone sales, Apple lost market share from last year's 22% because of the inroads made in the market by low-cost Chinese smartphone producers. Huawei sold 16.6 million smartphones in the quarter, giving the company a 5.7% market share, good enough for third place. In fourth place was Lenovo. The latter sold 13.6 million units, giving them a 4.7% market share.
For all of 2013, Samsung was on top with a global market share of 32%, after selling 319.8 million smartphones. Apple finished 2013 with 153.5 million iPhones rung up, giving it a 15.5% market share. For all of 2013, smartphone sales rose 41% to hit a record 990 million units.
"There is clearly now more competition coming from the second-tier smartphone brands. Huawei, LG Electronics and Lenovo each grew their smartphone shipments around two times faster than the global industry average. Samsung and Apple will need to fight hard to hold off these and other hungry challengers during 2014."
-Linda Sui, analyst, Strategy Analytics
source:
Reuters