Samsung says its Super AMOLED screen beats Apple's Retina Dislpay
This article contains unofficial information.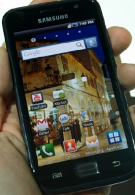 Apple opened a lot of eyes, so to speak, when it revealed what it is calling the "Retina Display" on the new iPhone 4. With a market leading resolution of 640 x 960, the new handset would be considered sharp under any condition. But when you consider that the device has a 3.5 inch display compared to the 3.7 inch to 4.3 inch screens seen on most of the high end Android phones, you can imagine how sharp and clear the new iPhone's screen is. That doesn't mean that Samsung is giving up and going home. In fact, the maker of the AMOLED and Super AMOLED screens says that it is still the winner. A Samsung representative said that quadrupling the resolution only increases clarity by 3% to 5% at most and when you consider that batteries drain 30% faster with Apple's technology, the Korean based firm feels that the AMOLED screens are superior to the Retina Display of the iPhone 4. The spokesman says, "Structurally, (Apple's) IPS LCD technology cannot catch up with AMOLED display technology." An AMOLED display does not require a backlight like Apple's display needs. And while AMOLED screens are known to wash out in direct sunlight, Super AMOLED screens are said to hold up better with the sun beating down on the display. The OLED screens give the viewer blacker blacks, colors that pop in front of your eyes and a sharp picture from almost any angle. Apple says that the iPhone 4 display presents more pixels per inch than the human eye is capable of seeing. Some experts in this field have disputed the numbers that the Cupertino based firm is throwing out. The only way to end this battle will be to judge the Super AMOLED display of the Samsung Galaxy S, together with the display of the iPhone 4 when it is released on June 24th. At that point, seeing will be believing.
Apple iPhone Specifications
Samsung Galaxy S Specifications
|
Hands-on
source:
electronista