Samsung said to introduce a 5.8-inch Galaxy Player soon
15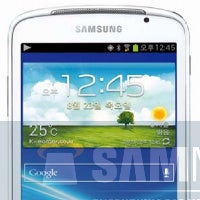 Samsung might introduce a brand new Galaxy Player at IFA 2012, kicking off in less than two weeks, and it will test the grounds for even bigger, 5.8-inch screens. Designwise the upcoming Galaxy Player is rumored to resemble the Galaxy S III. The 5.8-inch Galaxy Player, referred to as the Samsung YP-GP1, is expected to run on Android 4.0 Ice Cream Sandwich, but being a portable media player you won't be able to use it to make calls.
The rumored specs for this upcoming device are nothing groundbreaking but still seem capable of delivering a smooth Android experience. The Galaxy Player is said to feature a 1GHz dual-core processor, 1GB of RAM, a 3-megapixel rear and a VGA front camera, as well as a 2,500mAh battery. The 540x960 qHD resolution also isn't on par with current high-def screens, but all this combined should translate into a pretty affordable price tag for the device.
What we find most interesting about this Galaxy Player is its 5.8-inch display. This is 0.3 inches larger than what we expect to see in the Galaxy Note, and is coming dangerously close to tablets. At 5.8 inches we can already imagine reading books on this thing and catching up with some movies, and the extremely light 0.5 pound (223 g) body comes as a huge benefit. Now, of course, that weird size has us guessing whether it's really not just a typo, and Samsung isn't thinking of introducing a 4.8-inch player instead. We'll know for sure in just 11 days, so stay tuned.
source:
SamMobile