Samsung replies to Galaxy S4 limited storage accusations, says go get a microSD card
99+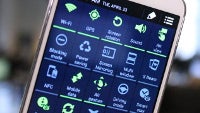 The
Samsung Galaxy S4
is already here, but if you pick up the 16GB model, you are in for a little disappointment - the actual amount of memory available to the user is less than 9GB. Nearly 7 gigs of the 16 you have on board are occupied with Samsung's TouchWiz apps and widgets, and while some might appreciate them, to a lot of people those would just seem like bloatware.
The issue with little available memory on the Galaxy S4 spread out quickly, and now Samsung has felt the need for an official reply, but you are not going to like it. Basically, the company confirms that nearly
7GB of the internal storage are occupied
and tells you to go and get a microSD card if you want more.
"For the Galaxy S4 16 GB model, approximately 6.85 GB occupies the system part of internal memory, which is 1 GB bigger than that of the Galaxy S3, in order to provide a high resolution display and more powerful features to our consumers. To offer the ultimate mobile experience to our users, Samsung provides a microSD slot on Galaxy S4 for extension of memory."
And while that's an interesting suggestion - you can actually augment the internal storage by as much as 64GB cards - Samsung might want to also rethink the size of their skin as not everyone will by happy with this kind of an answer.
source:
CNET UK