New Samsung patent shows how one of the S10's main new features will work
13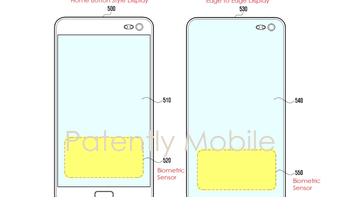 If you were curious how will Samsung go about the first ever mass introduction of display-embedded biometry on a popular phone, look no further than its latest filing with the US Patent Office.
In it, Samsung details an
ultrasonic
fingerprint scanner, which is coincidentally what's rumored to land in
two
of the alleged
three phones in the Galaxy S10 lineup
. We won't bore you with the technical details described in the patent, and will just mention that Samsung also elaborates how this type of sensor can also be moved to the side of a phone, not only placed under the cover glass. By chance, that's exactly the speculation about the eventual basic S10 Lite with flat display - that it will have a side-mounted reader.
After Samsung tried and failed to implement in-display fingerprint scanner into the Note 9 in time for the summer release (it's been trying since the S8, but we digress), the S10 will apparently by Samsung's first phone with it, and the first mass-produced Android from a popular brand that will sport the thing.
If implemented successfully, it will be one of the defining characteristics of the handsets, as, let's face it (pun intended), 3D face-scanning is neither more convenient, nor more secure in practical terms than the good ol' finger tap in the middle of the screen to unlock your phone in a jiffy while holding the grocery bag with the other hand.