Samsung outs Galaxy S II Plus, with Android 4.1.2 and the Nature UX interface
48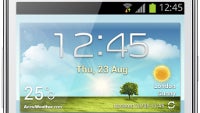 Samsung just announced the
rumored Galaxy S II Plus
on the hush-hush, and the specs don't differ from the ones it had on its 2011 flagship, but the phone is breathed new life by loading it from the get-go with Android 4.1.2.
It also supplied it with its latest Nature UX interface, which features options like Smart Stay that keeps the screen on when you are are looking at it, and PopUp Play, which detaches the current video in a separate hover window, so you can do something else underneath.
Other than that, the specs stay a 4.3" WVGA Super AMOLED Plus display, 1.2 GHz dual-core chip, a gig of RAM, 8 GB of storage plus a microSD slot, 21Mbps HSPA+ radio, and an 8 MP rear camera with zero shutter lag this time.
Samsung only enabled the NFC radio from the box for certain markets, and called it a day. We can imagine the Galaxy S II Plus will be selling dirt cheap, and it is still a Samsung, so it would fit well in the hearts of Android fans in emerging markets, and not only.
source:
Samsung
Samsung Electronics Co., Ltd. announced today Samsung GALAXY S II Plus, which combines the performance that have made the GALAXY S II one of the world's most recognized phones, together with nature-inspired user-interface and intuitive features that greatly boost its usability and functionality.

• The GALAXY S II Plus runs on Android™ 4.1.2 (Jelly Bean) enabling faster and smoother screen transitions, and
providing an enhanced user interface featuring a new, easier-to-use notification panel. It is powered by an impressive
1.2 GHz dual core processor that enables easy multi-tasking, smooth screen transitions and superior graphics for
some of the most demanding applications and games.

• The GALAXY S II Plus' nature-inspired user-interface is complemented with intuitive features that make the phone really
easy to use. Direct Call enables users to automatically dial a call by taking the device to the ear. Smart Stay recognizes
whether the user is looking at the screen to dim the screen accordingly; while Smart Alert lets users know about
missed events or status updates just by picking up the phone.

• The GALAXY S II Plus also sports a range of additional features that boost performance and the overall experience in
entirely new ways. Popup Video allows a video to play anywhere on the screen in a resizable pop-up window while
simultaneously running other tasks, eliminating the need to close and restart videos when checking new emails or
surfing the Web. S Voice lets users control the phone using their voice; and Voice Unlock lets users unlock the phone
using their own voice.

• A 4.3" WVGA Super AMOLED Plus display offers a generous viewing experience and enables photos captured with the
powerful 8MP camera to be enjoyed in true clarity.

• The rear camera features a zero-lag shutter speed that captures moving objects easily without delay. The innovative
'Buddy photo share' function also allows images to be easily and simultaneously shared with friends pictured in an
image directly from the camera or the photo gallery. Additional features include Group Facetag and Face Zoom to
deliver a complete photographic experience. The device is packed with the latest Samsung content services including
AllShare Play, which lets users share content across Samsung devices using a single account and password.
Users can also enjoy all the benefits of Samsung Hubs, including the latest versions of Readers Hub, Video Hub,
Game Hub and Music Hub.