Samsung officially announces the Galaxy NX DSLR camera, coming in October with a hefty price tag
58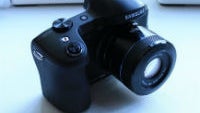 If you have been holding out waiting for the Samsung
Galaxy NX
DSLR camera running Android, you may want to just pack it in and start looking elsewhere. Earlier today, Samsung officially announced the device, which is basically the mashup of a Samsung Galaxy S III and a Samsung NX300 DSLR camera, and said that it will be launching in October.
But, while professional and semi-pro DLSRs have been dropping in price recently, meaning that you can get a quality camera anywhere from $500 to $1000, Samsung thinks that it has added enough value to the Galaxy NX and is planning to sell it for $1599 (body only). If you want an 18-55mm lens with that it will cost you $1699. Given what the Galaxy NX offers, it can be argued that it is worth the price, but it's certainly not an easy sell.
As a camera, the Galaxy NX offers a 20.3MP APS-C sensor along with a DRIMe IV Image Signal Processor, an Advanced Hybrid Autofocus system, a 1/6000 sec shutter speed and 8.6fps shooting, and the option to swap lenses. On the mobile device side, it features a 4.8-inch 720p touchscreen and SVGA (800 x 600 pixel) electronic viewfinder, a 1.6GHz quad-core processor, 16GB of internal storage, microSD card slot that is expandable up to 64GB, 2GB RAM, and a 4360mAh battery, all running on Android 4.2.
As an added bonus, it offers all of the TouchWiz Smart Modes in the camera, where they make more sense than on a phone, and you get access to the Google Play Store and all of the apps therein. And, the camera includes an a 4G LTE radio, in addition to Wi-Fi connectivity, so you really can do more with your photos directly from the device. There will be a Wi-Fi only model, but there is no pricing for that just yet.
What do you guys think? Worth it?