Samsung Galaxy NX Overview
19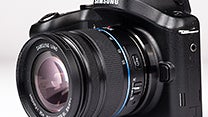 Introduction:
The Samsung Galaxy NX has just arrived in our hands and it is a fascinating gadget. It supports a SIM card, but make no mistake - this does not make it a phone, it's still a camera.
It is the first 'serious' camera with Android. It has a
20-megapixel APS-C
(23.5 x 15.7 mm)
CMOS sensor
and features
interchangeable lenses
, but unlike other such cameras, it is running on the latest of Android allowing for on the go sharing of images and supporting all sorts of neat apps like Instagram, Facebook or YouTube. This makes the Galaxy NX a unique combination.
So what does this entail? Simple - the Galaxy NX and its full-blown Android interface will allow you to customize the device as you wish and keep it relevant longer. After all, you can freely install all apps available on Google Play.
Design and Display:
After the initial shock and excitement of holding a DSLR-like camera with Android wears off, you're in for another surprise. A huge
4.8-inch 720p HD display
. If we go back to compare the Galaxy NX with the latest
Canon Rebel T4i
, you'd see that even though the Rebel series have been getting larger and larger screens, the 3-inch one on the T4i looks miniscule compared to the 4.8-inch gigantic display on Samsung's NX system. The screen on the NX is bright and vivid, extremely responsive and it's a pleasure reviewing photos and videos on it.
Naturally, it's a touchscreen and naturally it is the way to interact with the camera. Instead of physical buttons and dials, you have the display (there is just a single dial on top). It's hard to say whether a display is the best way to work with a camera and we can already hear photographers objecting that it's not. After all, a physical button provides a much quicker way to change settings and once you remember its position you can change those settings while you look in the viewfinder, without wondering where to press. That is simply impossible on a touchscreen where you have to look at it every time you make adjustments.
The Galaxy NX uses the
Samsung NX-mount system for lenses
and there is plenty of variety with 11 compatible lenses. We have the kit 18-55mm (f/3.5-5.6), which features optical-image stabilization.