Samsung looking to update Galaxy S4 to free up more storage space for users
99+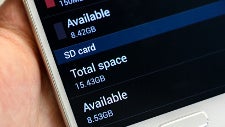 The
Samsung Galaxy S4
is one of the hottest Android handsets this year, but the fact that its most popular 16GB version actually turned out to only comes with
around 8GB of free storage space
for end users was a disappointment. After a huge outrage from the community, and after its initial hard-headed reaction, Samsung seems to have made a 180 turn on the issue. The Korean company first said that users complaints are worthless and they should
just go and get an expansion microSD card
.
Now, the company is starting to change its mind about the problem with less than expected user available memory:
"We appreciate this issue being raised and we will improve our communications,"
Samsung spokesperson said for CNET UK.
"Also, we are reviewing the possibility to secure more memory space through further software optimisation.

"Samsung is committed to listening to our customers and responding to their needs as part of our innovation process."

The dramatic lack of storage space comes from the
much heavier TouchWiz interface
that comes with the Galaxy S4. Many users point out that Samsung has introduced a ton of new features like gestures and eye detection that not a lot of people would use. Yet those exact features take up a lot of the internal storage on the device.
It is also true, though, that Samsung is the only company of the big ones that releases its flagship with a microSD card expansion slot. Apple and HTC for instance do not support expandable storage.
source:
CNET UK