Samsung introduces enterprise security features for smartwatches
3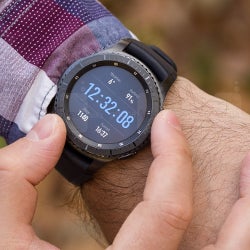 Smartwatches are still a niche as they are a bit expensive, yet don't have features that stick. Users rarely see the benefit of having what appears to be a glorified fitness tracker that needs daily recharging strapped to their wrist. But Samsung believes that there are professionals out there who would benefit from using smartwatches at work, as the hands-free display allows them to keep doing their job uninterrupted, all the while staying connected.
However, companies are wary of allowing their employees use wearable devices for sensitive files and corporate communication, as there are security concerns — the fact that the platform isn't yet widely spread means that manufacturers haven't developed a lot of ways to keep the device protected from hackers' eyes.
Well, Samsung wants to change this. At CES 2017, the company has announced that it has a new "Enterprise Mobility Management" (EMM) solution, developed by Samsung SDS.
The security suite works on Samsung's home-made operating system — Tizen — which means it's going to work on the Gear S2 and Gear S3. It allows companies to install their own corporate apps and also remote-manage the device (lock screen, wipe) in case it gets lost and stolen.
Additional features allow the users to extend battery life — EMM features toggles for GPS and NFC disabling / enabling in order to squeeze out the maximum life possible from the juicer.
The security solution is certified by the Common Criteria laid out by the National Information Assurance Partnership under the NSA, making it a dependable service. We are curious to see if this will actually cause certain companies to equip their employees with Gear S3 gadgets.