Samsung indirectly confirms that there will be a Galaxy Note 8
40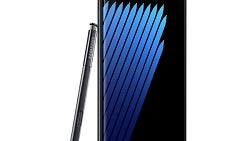 Last week, we told you that Samsung might be planning to incentivize the loyalty of Note 7 customers in South Korea by treating them with
discounts on the upcoming Galaxy S8 and Galaxy Note 8
. At the time, we had little to no idea on how the scheme would work, but Samsung has just announced a smartphone upgrade program for South Korean Note 7 customers, offering a very interesting bit of information in the process.
Those who've purchased the
Samsung Galaxy Note 7
in South Korea and will opt to replace their phone with a Samsung Galaxy S7 or a Galaxy S7 edge will be given the chance to upgrade to the Galaxy S8 or the Galaxy Note 8 next year. The upgrade will not be offered for free. Instead, customers will have to pay for half of the price of the Galaxy S7 or Galaxy S7 edge (depending on which phone they've replaced their Note 7 for) to qualify for the upgrade. Essentially, the upgrade will be offered through a discounted variant of Samsung's Galaxy Upgrade Program.
One interesting detail that Samsung had indirectly confirmed is that there will be a Galaxy Note 8. After Samsung issued the second (and final) recall of the Galaxy Note 7, some rumors claimed that the South Korean tech giant might kill off its Note series. As it turns out, this was nothing but speculation.
At the moment, it is unknown if Samsung plans to extend the availability of the upgrade scheme to any other countries besides its home market.
What do you guys think, is anyone happy to learn that the Samsung Galaxy Note series was not discontinued?