Samsung has sold 630,000 Note Edge units so far
20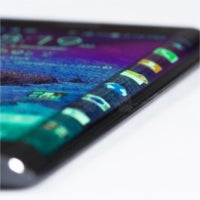 When Samsung took up to the stage at IFA 2014 this past September, it whipped out not one, but two whole new Note models, one of them being the oft-rumored
Edge
model with a screen that slopes to its side. The only difference between the Edge and the standard Note 4 was the screen, of course, so it was unclear if the public would react the way Samsung was hoping they would – after all, it is the less ergonomic of the two, and the side screen was unlikely to be seen as much more than a gimmick for the nerdier type.
This should be some welcome news for Samsung, considering its recently dwindling sales. The Edge is not enough to keep a behemoth such as Samsung afloat, of course, but the company has likely won itself future support from major carriers around the globe who are seeing decent interest in an otherwise wacky device. In case you didn't know, focusing on innovative and hard-to-copy tech lies at the center of Samsung's new strategy, so don't be surprised if all those
rumors of a Galaxy S6 Edge
pan out – this may just be a part of Samsung's way out of the mire.