Samsung growing to top smartphone brand in Europe, iPhone slowing down in Europe in Q2 2012
99+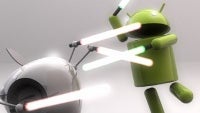 We've already seen the quarterly sales data of Android and iOS - major researchers like Strategy Analytics, IDC and Canalys all agreed that Google's platform is winning globally, but now we have another missing piece to make the puzzle fuller. Kantar reports its monthly breakdown of smartphone sales and interestingly it also shows how strong Android has grown in markets like Europe and Australia. The iPhone in contrast holds its strongest ground at home, on US soil.
The whole report however contributes to a feeling that Apple better impress people with its next iPhone next month.
The biggest winner in Android world is Samsung which commanded 45% of smartphone sales in the UK, Germany, France, Italy and Spain in a 12-week period ending July 8th. Apple in contrast got a meager 16% of total sales.Actually, it's Apple itself that first noted its weak performance in Europe, blaming bad financial weather and anticipation for its next device.
Kantar however found that there is another big reason for Apple's weak sales on the Old Continent:
"An important point here is that there is very little difference in price between an Apple iPhone or an Android phone in the U.S., so the choice is made purely on what the consumer wants, not what they can afford, whereas in Europe,

Apple continues to command a price premium over Android

. With recessionary pressures as they are in Europe this is likely to have an impact,"
Kantar analyst Dominic Sunnebo said for Tech Crunch.
Still, the iPhone can brag about having the highest user loyalty with some 92% of all users planning to hold on to the Apple brand. It's not so for RIM. The BlackBerry maker is only holding its positions steady in France, but hardly anywhere else.
source:
Kantar WorldPanel ComTech
via
TechCrunch