Samsung gives you reasons to upgrade to the Galaxy S5... from the Galaxy S III
64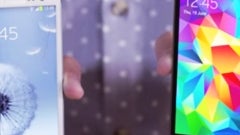 Samsung recently launched a few new promo videos, all trying to make you upgrade your phone to its
Galaxy S5
flagship. You'll notice that Samsung is specifically targeting users who have an old
Galaxy S III
, many of whom are likely to be close to the end of their two-year contract with their respective carriers.
There are three videos to watch, and they're a tad on the boring side - at least for us, because we already know everything there is to know about the S5. Samsung is being a bit of a Captain Obvious with lines like "the Galaxy S5 is a step up from the Galaxy S III." Anyway, the videos do manage to be informative, providing details about the new and longer-lasting battery of the S5, its faster processor, better camera, better screen, and its dust- and water-resistant body.
All three promo videos are embedded below. Before (or after) watching them, you should check out
our Samsung Galaxy S5 review
for an in-depth look at the new smartphone.
Earlier this week, Samsung also
advised iPhone users to upgrade to the Galaxy S5
, calling them "wall huggers" and stating that its flagship handset offers a superior battery.
Recommended Stories