Samsung founds a display patent troll shop in Washington D.C., already 100+ patents amassed
49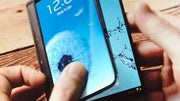 Samsung has apparently set up a patent shop, Intellectual Keystone Technology (IKT), down in Washington, D.C., at the princely sum of $25 million. The company will be in charge of all patent-related issues around the company's groundbreaking display technology, but also has been tasked to further strengthen Samsung's portfolio in the field, as indicated by a recent purchase of former Seiko Epson patents, which have something to do with LCD and OLED tech.
IKT is a Samsung Display subsidiary, and indicates greater focus on screen IP, after the
ongoing OLED display kerfuffle with LG
. The department's spokesperson noted: "
Patents are a good source of innovation and we also need to protect our intellectual property by strengthening our patent-related business
".
Created in March, the company bears the rights over some 123 patents, ranging from the mundane to the futuristic. "
IKT will be tasked to find out which patents are helpful and valued for Samsung
," mentioned an industry insider. Patents are turning into big revenue streams in the tech world lately, so that might be one of the goals for setting up the patent shop. The other might be to avoid slips like
LG eventually coming out with the first flexible OLED phone
before Samsung.