Samsung's bet-the-farm foldable phone just got a step closer to launch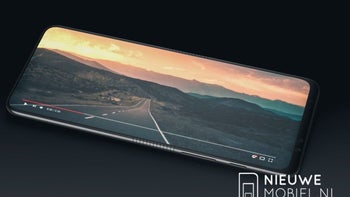 Samsung has been at the forefront of bendable OLED display development for a while now, but with the mobile industry's innovation drive tapering off, it is accelerating its pace to the point that a true bendable phone may hit the shelves early next year to set Samsung apart again.
The company has reportedly now established a task force within the product development department that is charged exclusively with setting the
bendable panel and the resulting phone
for mass production. Around the Galaxy Note 9 launch interviews, Samsung's DJ Koh mentioned that the
Galaxy S and Note lines will stay separate
next year, but there will be a third premium line entering the fray. "
I've talked about quality and durability, but now we've overcome and over the last ridge
," he mentioned, indicating that the foldable display and electronics that go along with it, are now good enough to enter a retail product.
The display industry in Korea is abuzz with the creation of the new 200-people-strong task force, as, according to its insiders, that means Samsung is very serious about launching a commercial bendable phone soon. At this moment, its components haven't hit the conveyor belts yet, though, tip Korean sources: "
The new Task Force has gathered the company's existing [foldable phone] employees, but it is not yet in the mass production stage
."
To wit, Samsung is gearing up to unleash, perhaps as soon as around the CES expo in January, a true bendable phone that can unfurl into a 7" tablet-y screen of sorts, while in a bent shape it can fit in your shirt pocket, for instance. It will undoubtedly be a premium device in terms of chipset and cameras, too, but is expected to
cost twice
what other companies with foldable phones in the pipeline, like
Huawei or Xiaomi
, are projected to charge for their own bendy creations. Needless to say, we can't wait, as this might be the innovation that will spark a new arms race in mobile, or turn out to be an expensive flop in the end. Either way, the adrenaline rush might return to the industry in full force after Samsung's foldable phone unveiling.