Samsung files lawsuit over negative news report of Galaxy S5
38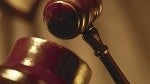 The
Galaxy S5
is almost here, and several outlets, including us, have looked over the
new flagship with rave reviews
. One publication in Korea does not see it that way however, and Samsung has filed suit against ETNews who published a "negative" report related to the manufacture of the device.
ETNews noted that the Korean conglomerate was having issues producing components for the Galaxy S5's camera.
ETNews further reported that Samsung has having employees work crazy overtime hours to make up for the production gap so the phone's commercial release would not be delayed. Samsung denied the reports and asked ETNews to retract the statements, concerned that the negative press could hamper sales in Korea, and that the story could go viral, thus hampering sales worldwide. ETNews refused to change its story, so Samsung put its crack legal team on the case.
Samsung is seeking damages of roughly $300,000, taking the matter up with South Korea's Press Arbitration Commission stating the following,
"Samsung Electronics sought a correction from ET News following the publication of false claims that can hugely damage our business and brand value. In the interests of providing consumers with accurate information, we made a number of requests for the information to be corrected. Unfortunately this was ignored and we are now taking legal action as a last resort."
In its defense, ETNews says its story fits the facts it has and that its reporters are fact checked daily.
source:
Digital Trends