Samsung expecting low initial sales of the Note 10.1 (2014 edition)
19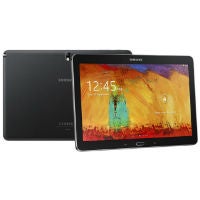 There has been news before which pointed to Samsung not being very bullish on the appeal of its
10-inch tablets
. According to what we've seen, about 70% of Samsung's tablet sales in the first half of 2013 came from the 7-inch Galaxy Tab model; so, it's not that much of a surprise that Samsung is expecting the initial sales of its new
Galaxy Note 10
.1 (2014 edition) to be fairly low.
Industry sources for
DigiTimes
are saying that Samsung is only expecting to sell between 400,000 and 600,000 units per month of the Galaxy Note 10.1. This low number isn't just because Samsung's 7-inch model is more popular, but because there are new Apple iPads expected to launch in the next two or three months. Unlike the smartphone market, where Samsung's flagship device the Galaxy S4 can rival iPhone sales on its own, it has taken the aggregate Android tablets from many manufacturers to unseat the iPad.
Sources say that the only reason Samsung is sticking with the Note 10.1 is to "defend [its] market share in that segment", and that Samsung doesn't believe it can really cut into Apple's 9.7-inch iPad sales.