Samsung executive confirms that U.S. variant of Samsung Galaxy S III will feature dual-core CPU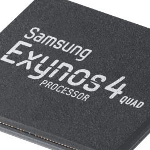 Last night, we warned those in the U.S. not to get too excited by the news that the Samsung Galaxy S III would be
the first device to be equipped with the quad-core 1.4GHz Samsung Exynos 4412
under the hood. We feared that because of the widespread use of LTE in the U.S. and the lack of an integrated LTE radio on the Samsung Exynos 4412, the Korean based manufacturer
might decide to go with the dual-core Qualcomm Snapdragon S4 instead
. This is what AT&T was forced to
substitute the quad-core NVIDIA Tegra 3 for
on its version of the HTC One X.
Korea Times
, a Samsung executive who did not want to be named said on Thursday that Samsung will use different combinations of processors and radios on the Samsung Galaxy S III depending on the country involved. In Europe, the device will feature 3G and Samsung's quad-core Exynos processor. In Korea, Samsung will use its own solution that will allow the phone to have 3G and LTE connectivity along with a quad-core processor.
Only in the U.S. will Samsung use Qualcomm chips
, said the anonymous Samsung executive.
The same
Korea Times
report says that because Samsung is a "top tier" customer of Qualcomm, it shouldn't be affected by shortages of the S4 as much as other manufacturers that use the chip, such as LG and Pantech. Those two could start feeling the affect of a shortage starting in this quarter. LG says it might have to cut back on production of certain models. The dual-core chip, also known as the MSM8960, offers 3G and 4G connectivity thanks to an integrated LTE radio, and is produced using a 28nm process. Qualcomm CEO Paul Jacobs said, "
Although the manufacturing yields are progressing per expectation, there's a shortage of 28-nanometer capacity
."
source:
KoreaTimes