Samsung patents curved display with hardware key cut-outs
35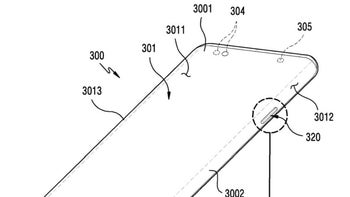 Samsung's
Galaxy S10
series is expected to embrace the bezel-less design concept entirely by reducing both the top and bottom bezels to a minimum. However, with the possible aim of taking things further in the future, the South Korean giant has patented a new front panel design that makes use of small cut-outs on the side.
In the hope of reducing smartphone frames past current possibilities,
Samsung
appears to be envisioning future devices which make use of displays that wrap over the edge completely, leaving just a fraction of frame visible. Unsurprisingly, this leaves no room for physical buttons, hence the workaround that Samsung has patented. Rather than implementing on-screen software buttons, which many could argue is the most logical solution to the problem, the number one smartphone manufacturer may utilize cut-outs within the edge portions of the display. This would then allow the company to maintain any hardware buttons that would have previously sat on the frame such as the power key, volume rocker, and the dedicated Bixby button. Additionally, it would still allow Samsung to create a seamless edge-to-edge design up front.
As usual, there is no guarantee that Samsung will actually make use of its latest patent on a future smartphone. However, if it did ever choose to do so, it would indicate that the company values the experience provided by hardware buttons highly, and could, therefore, turn out to be a fan pleaser.