Samsung details how it engineered the unique cooling system in the Galaxy S7 and S7 edge
91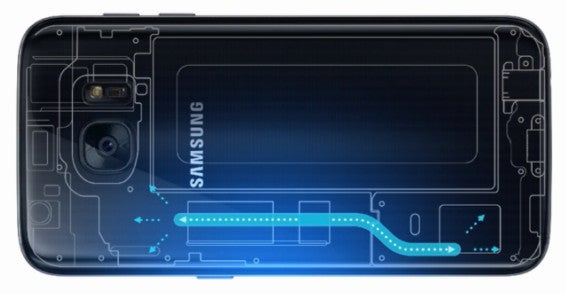 Back when the
Galaxy S7
and
S7 edge
were announced, the first teardowns of the handsets revealed some sort of a flat piping running around the processor area, presumably a tiny cooling system. Samsung then confirmed that the phones do indeed feature this, when talking about its new Game Launcher setup: "
the cooling system in these phones, with a very thin thermal spreader, keeps devices cool, so gamers can focus on winning
."
Today, the company posted a whole interview with the "cool" kids from the engineering department that designed the unique heat pipe in the S7 and S7 edge. We say unique, as it is the thinnest, tiniest spreader we've seen, and the engineering talent confirms that, at 0.4mm in diameter and just 0.2mm wide space inside, it is the most compact such system in the market at the moment.
The interview reveals that the engineers couldn't find an off-the-shelf solution that would do the job, so they designed one from scratch, experimenting with alloys and metal mesh inside the pipe, as well as with the exact placement, so as to preserve the phone's structural rigidity. As a result, the thermal spreader in the S7 has heat conductivity 50 times higher than that of pure copper.
The flat heat pipe uses a tiny amount of water that constantly evaporates and travels as steam away from the processor to cool down in the other end, then condense back, spreading the heat evenly around. It thus prevents thermal throttling of the CPU/GPU combo, so that gamers are always getting the maximum out of their device, when the cooling system is paired with power management on software level. Why did Samsung go through all that trouble?
Jeonggyu Jo
: The latest Galaxy S7 and S7 edge have a high performance AP and enabling extended use of these features concerned us. To disperse more heat effectively, we embedded the thermal spreader. This ensures high performance of smartphones and also lessens surface heat at the same time...
Haejin Lee
: The cooling system continues to work while the smartphone is in use. An easier way to think of it is that the cooling system acts like a network of roads. When there is no traffic, you can use regular roads, but if there is traffic congestion, highways are useful to spread out the traffic volume. The thermal spreader spreads out excessive heat, preventing the smartphone from overheating.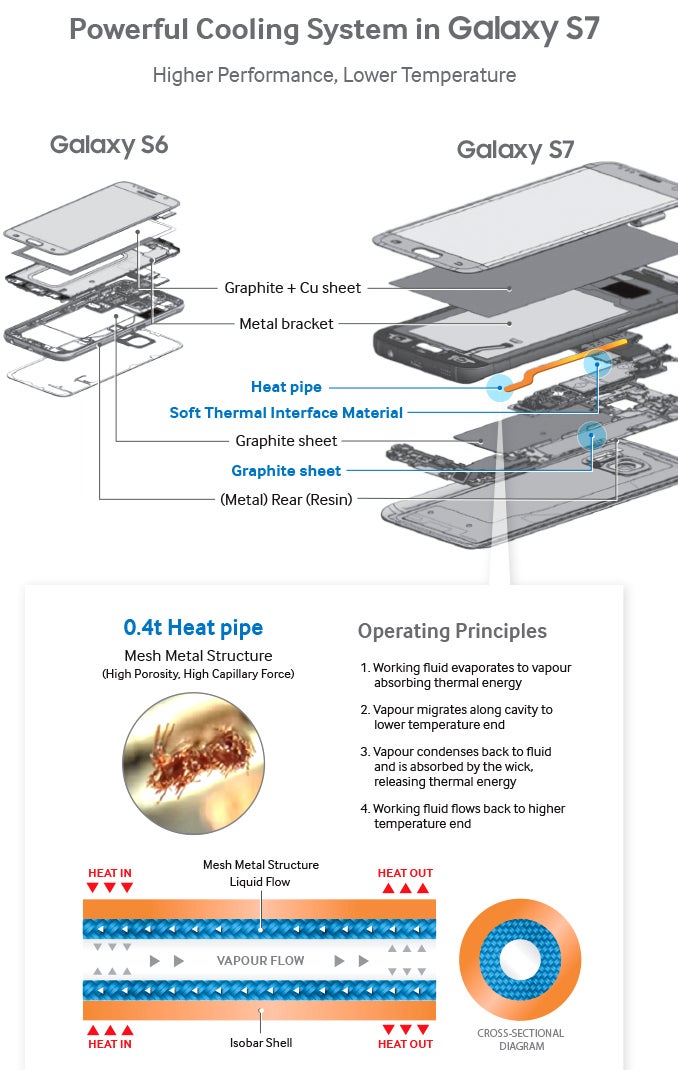 source:
Samsung