Samsung denies cheating on benchmark tests
99+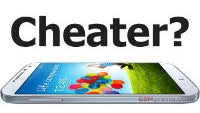 The evidence seems pretty hard to argue, but Samsung wants to try anyway. Multiple sources have found that
Samsung
(as well as
most other
Android manufacturers) artificially boost CPU frequencies when the system detects a benchmarking test running. Samsung is denying that its devices are trying to cheat the tests, and is actually putting the blame on the tests themselves.
The argument is kind of strange. Samsung said on the matter:
The Galaxy Note 3 maximises its CPU/GPU frequencies when running features that demand substantial performance. This was not an attempt to exaggerate particular benchmarking results. We remain committed to providing our customers with the best possible user experience.
This makes it sound like Samsung is saying that because benchmarking tests require the highest workload from the processor, that's what it gets. This would be a reasonable defense if it weren't for
how
the benchmarking cheats were discovered. Multiple sites have found discrepancies between Samsung devices running the official version of a benchmarking test as compared to a test that is renamed, because the devices have whitelists that target specific benchmarking apps.
This is not really a matter of devices working to peak when any and all benchmarking apps are run. Samsung and other OEMs are actively targeting specific benchmarking apps and modifying processor behavior when those apps are running. Simplified, if you change the name of Geekbench to 6eekbench, the system doesn't recognize the package and doesn't modify behavior. That sounds like cheating to us.