Samsung Galaxy Note 3 apparently using "benchmark booster" to fix results
86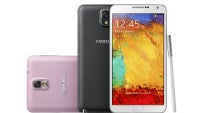 We've seen benchmark results from the Samsung Galaxy Note 3 before, and they have always been impressive, much more impressive than results from other devices running the same exact chip, which is a red flag. Samsung has been caught "adjusting" benchmark results in the past, and it looks like the company is doing it again with a "benchmark booster" in the Note 3.
In the past, Samsung was caught
overclocking
the Galaxy S4 GPU in order to manipulate benchmark scores and make them look better than the competition, and
Ars Technica
has found evidence that the Note 3 is also boosting benchmark scores, but with a different method this time. Apparently, this time around when the Galaxy Note 3 sees a popular benchmarking app running (like Geekbench) it will invoke the "benchmark booster" which will make it so the multiple cores of the Snapdragon 800 cannot idle at all.
The proof of this comes when running Stealthbench, which is exactly the same app as Geekbench just renamed to fool Samsung. When running Geekbench, the processor cores will not be allowed to idle, but with Stealthbench running, they can (as you can see in the first image below). Ars found a package called "DVFSHelper.java" which listed a number of benchmarking apps that will invoke the booster. It's unclear what other modifications, if any, are being done, but the results for single-core tests are the same, but multi-core Geekbench benchmarks could be as much as 20% higher because of Samsung's tweaks and Linpack could see results 50% higher than normal.
Basically, it looks like more evidence that we should put less stock in benchmark numbers and more in real-world performance.