Samsung considers asking Google to help with improving Bixby
28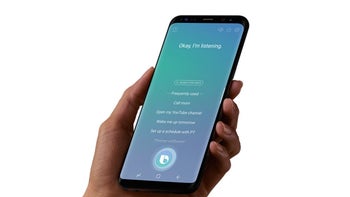 Samsung launched its virtual assistant, Bixby, with the release of the
Galaxy S8
, in 2017, and it's been pushing it to users ever since, even giving it a dedicated
hardware button
on its devices. Currently, Bixby's capabilities are no match for Google Assistant, but Samsung's president of the consumer electronics division, Kim Hyun-suk, sees a potential partnership between the two companies.
At a press conference at IFA 2018, currently ongoing in Berlin, the Samsung executive said he sees multiple forms of collaboration that can be beneficial for both parties. What the CEO things will be most lucrative for Google is Samsung's wide range of devices, in which Bixby can find its way soon. Through the Bixby integration, some Google Services can als be available to a wider user base. While most other companies only make simple speakers or displays that use virtual assistants, Samsung makes everything from printers to air conditioners, it would be pretty easy to have every electronic device in your house be made by Samsung. The company already has a line of smart refrigerators, so it won't be a stretch to assume that it wants to have all sorts of smart home appliances under the rule of Bixby. And Samsung wants to offer Google a piece of the pie.
Samsung's virtual assistant is already using Google for its searches, but the Samsung boss envisions further integration of Google's products, like Google Maps for directions straight within the Bixby interface.
Google is one of the leaders in artificial intelligence and machine learning, when it comes to its use in consumer electronics, and Samsung hopes to make a deal that will let it tap into Google's AI riches.
There is definitely a benefit from partnering with a manufacturer the size of Samsung, but it's unclear if Google will be willing to share know-how with a direct competitor in the field of virtual assistants. It already has its own line of smart speakers and is working with other manufacturers to
implement Google Assistant
in their Internet-of-Things devices.
It will be interesting to see if any of the ideas that Kim Hyun-suk talked about will come to fruition, after all, if Bixby is here to stay, it's better for Samsung users to have something more functional at their disposal.