Samsung confirms rotating bezel ring for the Gear A / Orbis smartwatch
20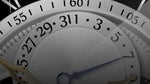 A couple of days ago, we told you that the often rumored curved Samsung Gear A / Orbis smartwatch is expected to be
unveiled alongside the Galaxy Note 5 and the Galaxy S6 edge+
at Samsung's
confirmed August 13 event
. Samsung itself previously hinted that the smartwatch will come with a round form factor by launching a new
Tizen UI dedicated for rounded smartwatches
.
Today, the manufacturer indirectly confirmed one of the most interesting details that was previously rumored about the smartwatch. We're talking about the rotative circular dial (some call it a bezel ring) which can be used to cycle through open apps.
Samsung dropped the information today at the company's Tizen Developer Summit 2015 in Bangalore, India. Although the rotative dial was not mentioned as part of the upcoming Gear A, or any specific smartwatch, the feature was introduced as a method of controlling version 2.3.1 of Samsung's open-source Tizen operating system. It remains to be seen if this hardware feature will actually translate into an smoother app switching experience. If so, the rotative dial could be a differential feature for the Gear A / Orbis.
Although Samsung did not confirm any of the hardware specifications, previous reports argued that the Samsung's first rounded smartwatch will come with a dual-core Exynos processor paired with 768MB of RAM, 4GB of internal storage space, and a 250mAh battery. Other rumored specs include a circular 360 x 360 display, Bluetooth, Wi-Fi, as well as 2G cellular connectivity. A recent report from the Wall Street Journal says that the Gear A will be the first device to come with Samsung Pay capabilities, although it looks like we're looking towards limited functionality at first.
It looks like the Apple Watch is in for a bit of competition, but specs alone never tell the full story. With Samsung's August 13 event right around the corner, be prepared for an avalanche of official and unofficial information regarding upcoming Samsung products in the upcoming weeks.