Samsung cancels the AT&T Galaxy SII Skyrocket HD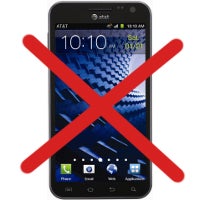 If you were holding out from purchasing a new phone so you could pick up AT&T's upcoming
Galaxy S II Skyrocket HD
, a phone that was ostensibly going to be AT&T's
Touch Wizzed
version of the
Galaxy Nexus
, then we have some bad news for you. While it was shown off to some fanfare at CES this last January, the phone has been cancelled.
That's according Samsung's Ryan Biden, who was speaking to The Verge earlier today. The reason for the cancellation is the upcoming Galaxy SIII. With a more-advanced Samsung flagship on the horizon that will be sporting a similarly large (and high def) screen and more advanced chipset, AT&T and Samsung did not feel that there was sufficient mind share to go around for both products to launch within a few months of one another.
We're sure some of you that were hoping to get the Skyrocket HD will be disappointed that you will have to wait longer for an equivalent Samsung phone (although there's always the
HTC One X
for the impatient amongst you), but we actually think Samsung should be commended for this decision; customers rightfully complain when similar phones are released back to back on a carrier in such a short period of time, much like the Droid Bionic->Droid RAZR->Droid RAZR MAXX sequence on Verizon last year.
So good for Samsung to stick to their strategy of
fewer releases
. And for those of you who do wait, you'll be getting more device bang for your hard-earned buck.
source:
The Verge