Samsung beats Apple: most people now use its smartphones to access the web
28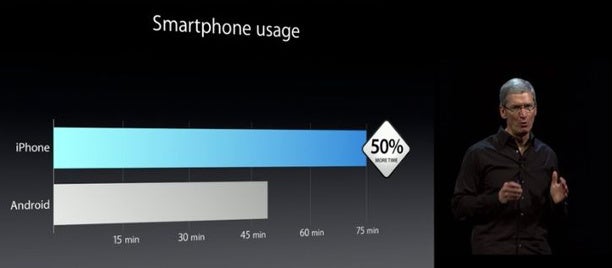 Apple can no longer brag about selling the most smartphones, so in its latest keynote Tim Cook had to quote a rather strange metric to still illustrate how Apple is superior to its rivals. To freshen up your mind, that metric was the actual usage of mobile devices. Apple's chief executive data then showed iDevices having a huge advantage over others.
Now, that seems to have also changed as StatCounter reports that in terms of smartphone web usage
Samsung has now surpassed Apple
. That means that people all over the world are using Samsung's smartphones more to access the web than iPhones or iPod touches.
The web monitoring service tracked mobile device accessing its websites and for the first time in June Samsung actually beat Apple in being the most used mobile device brand for surfing the web.
The difference between Samsung and Apple is minimal, but it's there. Samsung accounted for 25.5% of all page views, while Apple grabbed a 25.1% share. Nokia remained third with 22%.
While it might have fallen out of grace in June worldwide,
Apple still dominates the United States market
. In America, 54.8% of users used iDevices to access the web and Samsung was a distant runner up with 18.3%.
The StatCounter rankings only include smartphones and no tablets.
source:
StatCounter
via
CNET