Samsung announces new CEO: Kwon Oh-Hyun
13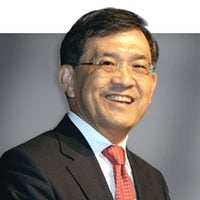 Kwon Oh-Hyun is the new CEO of Samsung Electronics,
as the company officially announced earlier today. The Samsung veteran, who has been with the electronics giant since 1985, will continue to
"oversee the company's component business, but, as CEO, will also handle corporate-wide affairs,"
Samsung announced in its statement.
Oh-Hyun handled Samsung's semiconductor division starting from the mid-80's, during which time he lead the team who brought us the first 64Mb DRAM in 1992. Then later in 1995, he was promoted to Vice President of Samsung Electronics' Memory Device Technology, only to be appointed Senior Vice President in 1998.
Former CEO Choi Gee-Sung is stepping down from the position at a time when the company is a
leading player on the mobile phone market
, with the
Samsung Galaxy S III
flagship reaching
impressive sales figures
. However, he will not be leaving Samsung. Gee-Sung will be given a new executive position within the company. At the same time,
"he is seen as chief mentor to Jay Y. Lee, son of Samsung Electronics' chairman Lee Kun-hee"
. Jay Lee will retain its position as COO, Samsung added.