Samsung announces NFC chip with flash memory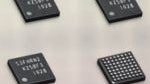 Samsung Electronics has announced their own
NFC
(near field communications) chip, which will include embedded flash memory.
Samsung
is excited to include flash memory, which will enable quick and easy software and firmware updates of the chip.
Tae-Hoon Kim of Samsung says that they "look forward to securing a competitive footing in NFC-based solutions with [their] new NFC technology, offering powerful mobile characteristics such as low power design and advanced RF sensitivity."
Samsung reports a 20% reduction in power consumption from previous designs, in both active and standby modes. If Samsung's is indeed more efficient than the
NFC chips
of their competitors, it may well become the component of choice.
They plan to begin mass production in the first quarter of 2011, but they said nothing of when we can expect them in our mobile devices. Eager beavers can get a first look in Paris, where they will be featured at the CARTES 2010 convention on December 7th. CARTES 2010 showcases digital security and
contactless payment
technologies, with over 500 exhibitors.
We're all excited about NFC functionality in our devices. And it's not just for mobile payments. Advertisers could include transmitters on their billboards and displays, allowing us to instantly access further information via an NFC interface. While contactless payments have been in place in
other countries
for some time, we imagine U.S. customers will still be wary.
source:
Samsung