Malaysians can use their phones as credit cards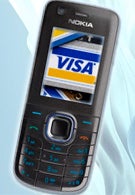 The NFC technology allows wireless transfer of encrypted information at a small distance. It is not a brand new technology, but this is the first time it hits the mass market, starting with Malaysia. Malaysian consumers with Visa accounts can use their mobile phones, instead of their credit cards, in order to make payments. The device that spurs this is the Nokia 6212 classic, which has NFC. All of this has been done with the partnership of the biggest Malaysian wireless carrier, Maxis, and the leading financial institution, Maybank. Customers are able download their Visa payWave credit account details directly to their Nokia 6212 classic handsets over the Maxis wireless network, which will allow them to use the payWave payment method at 1,800 merchant outlets in Malaysia. The carrier offers extra functions like paying for charges while using metropolitan transit systems, bus terminals, highway toll gates and car park facilities at more than 3,000 contactless payment touch points.
Congrats to all Malaysians! Now, they only need to wait for more phones supporting NFC. And why not? We would like to see this technology in the shops near us as well.
source:
BusinessWire