Samsung announces 5G partner carriers in Europe, Galaxy S10 5G launch in the US still vague
1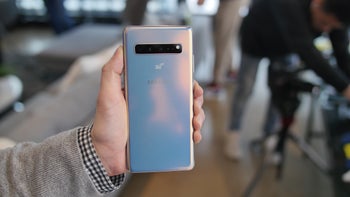 Despite all the leaks from the last few months, there were still a couple of surprising things during yesterday's Samsung Unpacked event. One was that we got to see a surprisingly polished
foldable phone
, coming along with a set price and release date. The other was sort of the opposite, Samsung's Galaxy S10 5G made an appearance just as expected, but without any specific information when it will be released and for how much.
Yet just a day later, Samsung officially announces that the 5G smartphone will be
coming to a plethora of European carriers
this summer. Samsung has partnered with some of the largest network operators on the old continent (Deutsche Telekom, Vodafone, Orange, Sunrise, Swisscom, TIM, Telefonica, EE), making sure that users in France, Germany, Italy, Spain, Switzerland and the UK have access to a 5G device as soon as possible.
Why this wasn't mentioned yesterday only DJ Koh knows, but it's likely that Samsung didn't want to overshadow the partnership it has with Verizon in the States. The collaboration between Samsung and Verizon was explicitly mentioned yet again during yesterday's event but still, both companies appear to have no idea exactly when the 5G smartphone will be available for customers.
It's possible that the release date is not up to Samsung or Verizon to decide. 5G is a brand new technology and the approval process for devices that use it is far from clear-cut. While we saw the other three Galaxy S10 models receiving FCC certification, the S10 5G hasn't been spotted on the Commission's website yet.
Motorola's own 5G solution, a Moto Mod for the Z3 smartphone,
passed through the FCC
just a few days ago and revealed that it required some clever solutions to limit users' exposure to the millimeter waves the technology uses.
Perhaps the Samsung S10 5G is having trouble meeting some of the regulatory criteria, causing the uncertainty around its release. Anyone who's dealt with government bureaucracy knows that definitive deadlines are not its strong suit. Still, considering that Samsung has promised a "first half of 2019" release for the phone, the issues (if there are indeed any) are likely solvable within a short time-frame.
And, of course, without a release date, it makes no sense to just announce a price for the device. Even if it was to come out tomorrow, with the state of 5G networks right now, few would have benefited from having a 5G phone.