Samsung and Motorola defeat Apple touch patent in Germany
44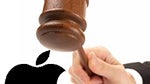 Samsung
and
Motorola
haven't exactly been beneficiaries of good news on the patent lawsuit front lately, so it must come as a relief that a German court ruled in their favor against Apple today. Apple was asserting a very broad patent on touchscreen input that would have been crippling to competing touchscreen devices if it had been enforced; technically Apple has sued each company separately, but given that both companies made similar defenses against the same patent the court decided to rule on them at the same time.
The Apple patent in question, EP2098948, covers a "touch event model" for interpreting user input. The patent is much broader than the pinch-to-zoom patent that Apple has been asserting in the U.S., and that appears to have been its downfall. The German Court refused to apply the patent as broadly as Apple claimed it should extend, and so based on differences in how touch input is calculated in iOS and Android ruled that neither Samsung nor Motorola infringed.
This same patent has also lost in the UK and the Netherlands, so Apple may need to retire this one as they continue on their nuclear warpath against Android. That said, Apple is equipped with lots of patents and a never-ending supply of cash, so if you're looking for an end to the ongoing mobile patent wars your best bet is holding out hope that Larry Page and Tim Cook manage to
hammer out an agreement
of some sort.
source:
FOSS Patents