Samsung and KDDI demonstrate 5G technology while on a moving train
15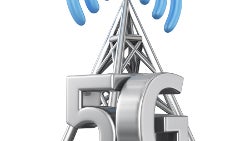 Samsung and Japanese telecom company KDDI announced this morning that last month they were able to demonstrate the use of 5G technology on a moving train. During the testing, successful handovers of downlink and uplink transmissions were achieved while the train was moving at a speed of 100 km/hour (equivalent to 62.1 mph). While this was going on, Samsung and KDDI were able to post a peak data speed of 1.7Gbps.
The equipment employed consisted of Samsung's pre-commercial 5G end-to-end solution. This package includes a 5G router, a 5G radio, and virtualized RAN and core. And the testing revealed some of the typical features expected with a 5G connection such as low latency (which means that the network responds to commands with very little delay), high throughput and other capabilities that would benefit both riders and operators of high-speed trains.
Besides being able to handle the downlink and uplink transmissions, the 5G connection allowed 8K video to be downloaded using equipment placed on board the train. In addition, a 4K video shot using a camera mounted on the train was successfully uploaded.
"The potentials that 5G holds is powerful enough to transform the landscape of our daily lives. The success of today's demonstration is a result of our joint research with KDDI, which we will continue to pursue as we explore next generation networks and use cases This will include research on diverse spectrums and technologies, as well as new business models and applications."-Youngky Kim, President and Head of Networks Business, Samsung Electronics
Yoshiaki Uchida, Senior Managing Executive Officer at KDDI, expects the company to launch its 5G services by 2020. The test took place in Japan from October 17th through the 19th, in a city close to Tokyo.
source: Samsung