Samsung and Apple take first dip in smartphone market share, LG on the rise
30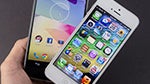 Following
Samsung's quarterly results disclosure
, we are now getting the recap from research companies, and the brainiacs from IDC spotted a new trend - Samsung's market share is slipping for the first time since the Galaxy line began its Android crusade.
Granted, it is a small difference in numbers - 30.4% share now against 32.2% in the same quarter last year, but it's there nonetheless. Apple's share also took a dip from 16.6% a year ago, to 13.3% now. So who are the winners from Samsung and Apple's level-off?
Fellow Korean countrymen from LG, it seems, as well as Chinese juggernauts like Lenovo and ZTE, the numbers show. Getting in bed with Google on the
Nexus 4
, as well as throwing in
nice midrangers sold at a great price
like the
Optimus L9
seems to have done wonders for LG's market share, compared to a year earlier, boosting the presence from 3.7% to 5.1% in the April-June period.
Lenovo also noticed a significant bump, going from 3.1% to 4.7%, though this is mostly due to its strength in China, rather than any global presence to speak of. Nokia is yet to make a smartphone comeback with its Lumia numbers, though it remains the second-largest phone maker overall after Sammy.
All in all, the market
rose to a total of 237.9 million smartphones
shipped from 156.2 million units in Q2 last year, according to the research firm.Samsung and Apple are still kings, but the underdogs are starting to bite back, which is all well and good for the foundation of our capitalist society - competition. LG is taking chances with unorthodox ergonomic solutions, as is visible with the
G2
, and it might just pay off in the future.