Samsung all but confirms it is not the only supplier for the new iPad's Retina Display
10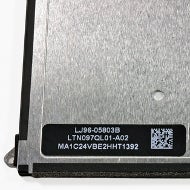 Samsung's Vice Chairman Kwon Oh-hyun has commented on reports about the firm's alleged exclusivity as a Retina Display supplier for the new iPad. The translation from Korean reads: ``
It's a matter of allocation. There is no only supplier in the world. Samsung is just supplying displays to Apple, initially
".
Make of it what you will, but these sentences can be taken as strong evidence that, even if it were only Samsung for the initial batches, the
rumored LG and Sharp
supply will be entering the stage as well.
Samsung's biggest rival in Korea and the Japanese reportedly had issues making enough panels with the required quality, so their share in the 9.7" Retina Display production is expected to kick in next month. When
iFixit tore down the new iPad
recently, they indeed found a part number on the screen that hints at it being a Samsung creation.