Samsung aims PC-like performance on mobile DRAM chips
4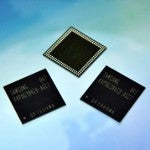 Samsung yesterday said it has developed a new version of DRAM chips that are more than twice as fast as current technology and consume
20 per cent
less power, which translates in longer battery life. The Korean manufacturer announced transfer speeds of up to
1,066 megabits per second
for its 4-gigabit LPDDR2 DRAM. The new modules use 30-nm class technology and are expected to bridge the gap between mobile memory transfer speeds and PC memory speeds.
Samsung noted that mass production of the chips will start sometime in the first quarter of 2011 and it expects 8Gbit memory to become the mainstream density next year. The Koreans will stack two 4Gbit modules into a single chip with a gain of 20 per cent in height for the bundled chip, a valuable adjustment for thin gadgets. The company also plans on launching a 16Gbit variety which has 4Gbit LPDDR2 DRAM units respectively. Current DRAM technology operates at speeds between
333Mbps and 400Mbps
. The higher transfer rates will be most beneficial for data-intensive programs like video and games.
"The mobile device market is gaining momentum with the advent of tablet PCs, which is adding significantly to the already surging smartphone segment," Jun-Young Jeon, VP of memory product planning at Samsung was optimistic about the industry's prospects.
source:
BusinessWire
via
Yahoo! News