Samsung aiming at BlackBerry with platform for enterprise use to be unveiled at MWC?
47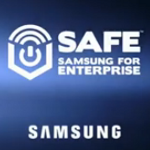 For those who thought that BlackBerry was in the clear once they launched the
BlackBerry Z10
, better guess again. According to investment house Detwiler Fenton, Samsung is planning on introducing a new platform for the enterprise customers that are the
bread and butter
of BlackBerry. But before you start getting overly excited, this comes from the same brokerage house
that has been bearish on BlackBerry
every penny of the move it made rising from single digits to a recent high near 18.
SAFE initiative
. SAFE stands for Samsung for Enterprise and deals with keeping its devices secure enough for enterprise use. Recent commercials showed how a make-believe software company with a BYOD policy found its
supposedly secure software put on the internet
because of an employee with a BlackBerry.
In its research note, Detwiler Fenton said that Samsung now believes that SAFE allows the Korean manufacturer to deliver Android with best in class security and is aiming right at Waterloo's heart. According to the brokerage firm, "
Samsung must now believe it has enhanced SAFE to effectively take share from BBRY as we understand it has hired well north of 100 sales and sales support staff to serve the enterprise and small business markets
."
"Checks indicate Samsung is preparing an aggressive push into the enterprise segment and it has Blackberry's enterprise and SMB business in its cross-hairs. Over the last couple of years, Samsung has been investing in developing its mobile enterprise platform and has been poaching key engineers and managers from BBRY and we expect a major announcement at Mobile World Conference reflecting this initiative."-Detwiler Fenton

"We're working with some governments and … Apple is not serving them. They desperately want to use iPad but don't feel it is secure enough. It would be a LOT easier for somebody to take an Android tablet and add the level of security and create a government specific product, a goverment-oriented tablet that would meet all their security requirements with Android. I don't know anyone doing that [and] it's definitely a burning need."-David Jevans, CEO, Marble Cloud
If this turns out to be true, not only could it bring a quick end to BlackBerry's comeback, it could also put Samsung in a new position for it as the manufacturer for today's businessman. Samsung has been trying to push the
Samsung GALAXY Note II
as the perfect BYOD device with multi-windows allowing users to work and play at the same time.
source:
RCRWireless
,
Yahoo
via
BGR