Samsung adds iPad mini, iPad 4, and iPod Touch to lawsuit
29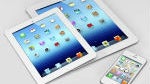 The first lawsuit between Apple and Samsung was a bloodbath, and round 2 isn't shaping up to be any less of a battle. Last week, Samsung and Apple both
added more products
to the pending lawsuits, and today Samsung has pushed even more and added the iPad mini, iPad 4, and iPod Touch to its claims.
This new trial isn't expected to go to court until sometime next year, but when it does it should be just as heated as the last trial. Apple has already named the Galaxy Nexus, the Galaxy S III, the Samsung GALAXY Note 10.1, and a number of other devices. Samsung has added the newest models of iPhone, iPad, iPod Touch, and the one and only iPad mini to its claims.
Of course, just like the last time, while there may be substantial monetary compensation awarded one way or the other, by the time the cases go to trial and are settled, none of the devices listed will be current (some aren't even current right now). So, it will be another giant battle with huge sums of money, and no real effect on the smartphone market itself.
Bravo, Samsung and Apple. YIt's obviously a much better idea to spend all this time, and money on lawsuits rather than something like R&D...
source:
Samsung filing
via
The Verge
Recommended Stories