Samsung Unpacked 5 MWC 2014 event livestream: Galaxy S5 incoming
43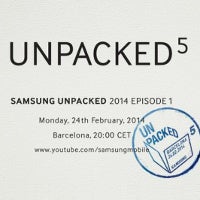 Ladies and gentlemen, the time has come for the biggest announcement of Mobile World Congress 2014 - the Samsung Galaxy S5. Samsung is expected to unveil its next big thing in Barcelona, and it will livestream the Unpacked 5 event for everyone to see.
The Galaxy S5 was a closely guarded secret and we did not see any leaked image before the very day of Samsung's presser. It's indeed today that we first saw what looks like a credible image of the Galaxy S5, that might spoil Samsung's surprise. Or could it have been a fake?
We will be able to tell very soon as Samsung Unpacked 5 livestream starts at:
2 PM ET | 11 AM PT | 8 PM CET
We expect appearances from Samsung's JK Shin, product demos from Samsung managers, and we'll be rushing towards the demo area for some hands on time with that rumored S5 (if it indeed launches). Samsung has already unveiled new Tizen-running Galaxy Gear smartwatches, so we don't know wheter it has other wearables in store. In either case, hit the link below for the livestream.
(or just play the video below)