Samsung Stratosphere Hands-on
6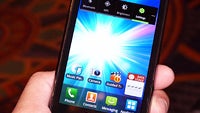 With the introduction of the
HTC ThunderBolt
earlier in the year, Verizon Wireless brought us all into the 4G LTE era. Of course, the carrier was quick to increase its portfolio by bringing aboard the
Samsung Droid Charge
and
LG Revolution
soon afterwards. More recently, the mighty
Motorola DROID BIONIC
brought the best technologies into one, as it combined 4G LTE connectivity with a peppy dual-core processor – though, it was an expensive one at $299.99. And in the last couple of weeks, the Pantech Breakout finally made owning a 4G LTE smartphone easier than ever before with its affordable $99 on-contract price. However, the 4G LTE lineup is still missing a QWERTY focused handset. Thankfully, that's where the
Samsung Stratosphere
aims to fill in the gap with its 5-row landscape style keyboard.
Let's get the obvious out of the way, but the Samsung Stratosphere easily brings back fond memories of the
Samsung Epic 4G
, as it pretty much looks, feels, and performs in the same way. In typical Samsung fashion, it's completely constructed out of plastic with a soft touch coating in the rear to keep it looking clean, and a metallic bezel to make it a decent looking smartphone. Overall, it feels solidly built, but doesn't really try to deviate much from the styling we find with the Epic 4G. In fact, It's profoundly made evident with the 5-row landscape style keyboard it's boasting as its maintains the similar chicklet style buttons used by the Epic 4G. Well, that's not a bad thing seeing that it exhibits a satisfying tactile response when buttons are pressed.
The Samsung Stratosphere uses a 4"WVGA Super AMOLED display – so yeah, there's no Plus found with this one. Nevertheless, it's able to win us over thanks to the saturated and vivid looking colors it's able to produce. Powered by the same 1GHz Cortez A8 Hummingbird processor used by all the Galaxy S smartphones, we're accepting of its peppy response in navigating around the TouchWiz interface running on top of Android 2.3 Gingerbread. But of course, the other main highlight with the handset is its wickedly fast 4G LTE connection.
As we mentioned already, it's essentially Verizon's version of the Samsung Epic 4G – but with 4G LTE instead. Furthermore, its $149.99 on-contract pricing will be appealing enough when pitted against the $200 and up pricing being flaunted by most of its 4G LTE brethren right now. Granted it's not a high caliber smartphone by today's standards, it's nonetheless an appealing handset as it finally brings the QWERTY form factor to the 4G LTE mix.
Samsung Stratosphere Hands-on: