Samsung Smart App challenge 2012 kicks off, over $4,000,000 to be awarded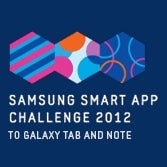 The
Samsung Galaxy Note
and
Galaxy Tab
lineup are not devices that top the average Android developer's priority list, but Samsung is currently trying to change that. And what better way to accomplish that goal with some solid cash that awaits to be won? Introducing the
Samsung Smart App Challenge 2012
– with prizes totaling $4,080,000 that are to be awarded to 80 participants.
In order to be eligible for a prize, the Android developer needs to come up with an application made specifically for the Samsung Galaxy Note and/or a Samsung Galaxy Tab tablet. The more the app is downloaded from the Google Play store, the better.
"mega marketing benefits"
, which means that the manufacturer will name those developers in its press releases, advertisement campaigns, and marketing strategies. Awards of $100,000 and $50,000 will be given to runner-ups, and bonus points will be awarded for apps taking advantage of the Note's S Pen.
So here you go, Android developers – now is your time to shine and make a name for yourselves. Just make sure you submit your apps in a timely manner as the challenge ends on September 30 of this year.