Samsung S-Pen coming to tablets?
3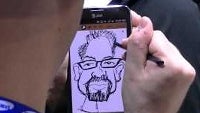 Samsung hints it might be considering adding
S-Pen stylus functionality to future tablets
, using what it's already achieved on the Samsung Galaxy Note. A Samsung product manager couldn't go into explicit details, but hinted strongly that a new input method might be coming to new Samsung-made tablets.
"I think a pen interface continues to make a lot of sense across a number of screen sizes, like the larger is more obvious of those. That's about as specific as I can be without announcing a product,"
product marketing manager Ryan Biden said in an interview for LaptopMag.
The S-Pen on the Galaxy Note uses Wacom active digitizer technology for input which means that it's much more accurate than capacitive styli. You can easily use the S-Pen for handwriting and sketching, something you'd find more challenging to do with a capacitive stylus.
Currently, only the 7-inch HTC Flyer supports stylus input, which makes it stand out in the crowd. And that's definitely one possible and logical strategy for differentiation in the Android tablet market for Samsung. It's not certain, though, so we'd hold our excitement until we get an official confirmation from the Korean company. How do you like the prospects, though?