Samsung Replenish announced by Samsung, heading for Sprint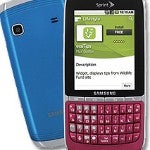 We recently
reported
that Sprint would introduce on April 15th, the eco-friendly
Samsung Replenish
. The Android flavored device was expected to launch on May 5th. Today, a day earlier than Sprint's expected announcement, the Korean based manufacturer let the cat out of the bag by introducing the model on its web site.
With a QVGA display 2.8 inches in size, the Replenish is constructed from recycled and recyclable plastics. Not much is known about the phone when it comes to specs, although the handset will have a camera and offer Wi-Fi connectivity as well as Bluetooth 3.0. Samsung's web site said that the unit will be launched in June.
Any more information on the Samsung Replenish will need to wait for Sprint's announcement tomorrow as Samsung has removed from its site the page with all of the information about the Replenish.
source:
Phonescoop