Samsung Replenish Hands-on
6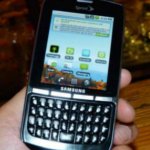 Continuing to show their commitment to be one of the most eco-friendly carriers in the country, Sprint is finally moving out of their comfort zone of mostly catering to the feature phone side, and instead, they're making the move into the smartphone realm. Today, we got the chance of checking out their latest green-friendly device, the
Samsung Replenish
, which should appeal to business savvy users out there thanks to its portrait style QWERTY form factor and flare for Android 2.2 Froyo.
Striking at the heart of RIM's BlackBerry line of devices, the Samsung Replenish will quickly get some comparisons, but it's
notably longer than the usual BlackBerry
. Constructed out of plastic with some chrome accents, it naturally makes the device
light weight
; however, it doesn't quite embody the solid construction that's evident with most of RIM's upper end devices. Nonetheless, we like the feel of the buttons on the keyboard, though somewhat tiny, it definitely has a
decent tactile response
when pressed.
Straight up front and center, we find a
2.8" QVGA
display which shows the usual characteristics of being on the lower quality side since colors appear a bit washed out. However, it doesn't detract from the reasonably decent
Android 2.2 Froyo experience with Sprint ID
. For the most part, it runs peppy without any detrimental reduction in performance, but it'll be interesting to see how it handles in the long run. Other features include a 2-megapixel camera, 1,600 mAh battery, and constructed out of 82% recyclable material.
Interestingly enough, there are a couple of other noteworthy items with the Replenish – such as the extra
$10/month savings
you'll get seeing that Sprint doesn't charge its usual premium data plan with it. Furthermore, you can pick up the optional
$30 solar charger
that clips onto the back like its normal battery cover, and will provide 20 minutes of talk time by simply leaving it out in the sun to bake for 1 hour. Lastly, the handset sports a
$49.99 on-contract price
, which is undoubtedly super affordable, and will begin to go on sale starting on May 8th.