Samsung reports $5.6 billion profit, preps an onslaught of new A-series phones
21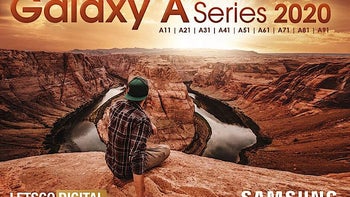 With rapid restructuring of both its corporate organization and product lines, Samsung managed to turn the ship around, and stabilize its sales and profits that were heading downwards after the flagship smartphone market started maturing about two years ago.
Granted, it doesn't post record quarters any more, but $5.6 billion in profits isn't too shabby either. That's exactly the operating income that Samsung just
reported
for the second quarter, reflecting a full trimester of
Galaxy S10
sales, but also of the hundreds of other gadgets, big and small, as well as components like memory and displays that Samsung sells.
Said memory chips are the biggest culprit behind the jaw-dropping 56% reduction in profits compared to the same period last year, as an industry ebb unfurls thanks to the US-China trade war and the geopolitical spat between Japan and Korea.
We wouldn't worry too much about a company that makes more than $5 billion a quarter, even though Apple, in a revenue slump of its own,
made double
that amount, but would rather look at hints about Samsung's mobile division way going forward.
While the overall market saw demand for smartphones decline due to the negative macroeconomic environment and seasonal weakness, Samsung's smartphone shipments increased QoQ led by strong sales of the new Galaxy A Series, including the Galaxy A50 and A70. However, sales of flagship models fell QoQ on weak sales momentum for the Galaxy S10 and stagnant demand for premium products...

In the third quarter, Samsung will focus on successful launches of new innovative products – the Galaxy Note 10 and Galaxy Fold. It will enhance the 5G smartphone lineup to take the lead in the new market and introduce more competitive A series models in the second half to extend the ongoing positive momentum in mass market smartphone sales.
Samsung's earnings in the mobile division fell year-on-year die to the tepid demand as people keep their phones longer and the fact that premium products like the
Galaxy Fold
never materialized in the quarter, but the overall number of phones sold increased.
Going forward, Samsung expects to introduce new 5G models, perhaps the ones in the Note 10 series, and new midrange A-series phones, at least one of which may sport a 5G modem, too. Speaking of the A-series, it has become a real playground for Samsung, as it preps no less than 9 new models to be released late this year and in 2020, suiting every taste and price point.
The Dutch from
LetsGoDigital
have unearthed trademarks for Galaxy A11, 21, 31, all the way to 91, so expect plenty of surprise phones from Samsung in the months ahead. If the intriguing Galaxy A50, A70 or
A80
are any indication, Samsung's future midrange is shaping up to be as exciting for the price point as its flagship series.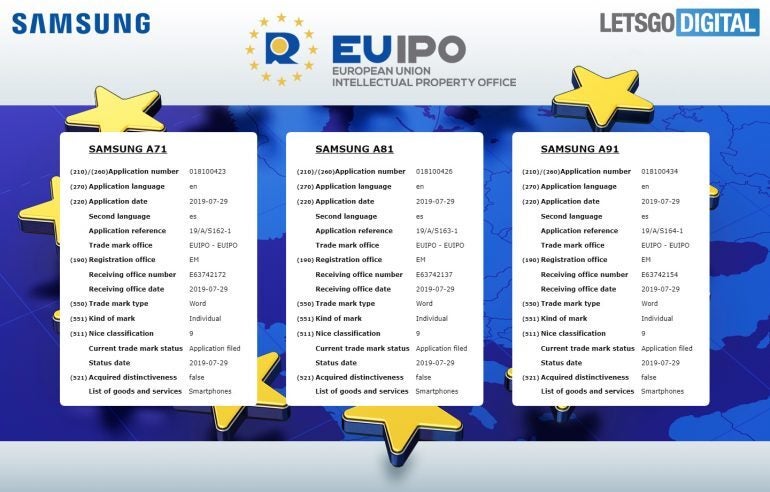 Recommended Stories