Samsung Omnia II available for Pre-Order at Amazon for 1 cent shy of a Grand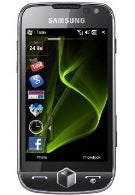 The Samsung Omnia II is now available for pre-order at Amazon. For your $999.99 you are getting an unlocked handset with a massive 3.7-inch AMOLED touchscreen. Don't forget the 5MP camera with AF, smile and face detection, LED flash and digital zoom. Wi-Fi and 3G connectivity is included along with 8GB of internal memory. TouchWiz 2.0 limits your actual interfacing time with the Windows Mobile 6.1 OS that this version of the device runs, and there is a 3.5mm audio jack. No problem with the phone as you can tell. The one thing that potential Omnia II buyers might have a complaint with is the price. $999.99 might seem a tad high, especially since we recently showed you a online conversation between a Verizon community user and an employee for Big Red who pretty much said that the Omnia II was going to be launched in a week. And while nickeling and diming a customer to death has been a Verizon trademark up to now, we can say with some degree of certainty that the carrier's Omnia II will be priced much lower than $999.99, especially with a two-year pact.
 Reps have been known to give out incorrect info when in conversation with a customer. Sure, this rep could be mistaken and the Omnia II might not be released by Verizon in a week. Still, the device is expected to see the light of day wearing Verizon colors and whether it is this week or 4 weeks or even more, surely it is worth it to be patient and wait for Big Red's more realistic pricing schedule unless you are one of those guys who has to have the latest and greatest device in his hands yesterday, regardless of cost....even if that cost is just one red cent shy of $1,000 U.S. Dollars? Actual shipping date for Amazon orders is unknown at this time.
 Samsung Omnia II Preliminary Specifications (CDMA) | Review (GSM)