Samsung Media Hub hands-on
5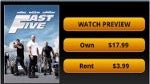 Recently, Samsung announced that they've started offering a
beta version of its video streaming service called Media
Hub, but it's only being made available to the
AT&T version of the Samsung Galaxy S II
. For those looking for a different alternative to the various video watching streaming services out there, some might be enticed by Media Hub's catalog, which includes both the latest television shows and movies. Rather than going with the usual monthly subscription route, like some of the competition, Samsung's Media Hub resorts to sticking with a
buy or rent system
.
After quickly updating the app on our AT&T Samsung Galaxy S II unit, we're quickly taken to the main menu where we're presented with a carousel of featured items at the top – with menu items to get into My Media, Movie Store, and the TV Store. When selecting the latter, we're again given a carousel of featured television show categories that we can use to further browse for specific shows. Now what's nice about Media Hub is that new TV episodes arrive
only a day after
they are aired on TV – plus, episodes are generally priced modestly at
$1.99
.
Getting into the Movie Store, we're presented with the same characteristic layout, but this time around we're given detailed information in regards to the selected movie – such as actors in the movie, the summary, and genre. Furthermore, instead of making a purchase to check out the movie, which you might actually not like, Media Hub offers a '
watch preview
' option for you to check out prior to purchasing. Also, you can either rent movies for
$3.99
, or pay more at
$17.99
to purchase the movie.
Besides all of the fun loving and new titles available in the Media Hub, the neat thing about it is that you can watch your purchased title while it's downloaded over Wi-Fi. Even better, if you purchase a show or movie, you can watch it on up to
5 Media Hub
enabled devices – well, that's as long as the video isn't expired. For those lucky enough to test out the beta trial, they have the ability to share and view content on 2011 Samsung Smart TVs as well.
So how's the quality with the shows? Well, they're actually really good, especially while watching it on the brilliant Super AMOLED Plus display on the AT&T Samsung Galaxy S II. On top of that, we do like that interrupted Wi-Fi connections will only pause the download at its current place – as opposed to restarting entirely. So if you're a video watching buff, then you might want to check out what Samsung has to offer with Media Hub.